Stripes Are So Hot For 2012 !
Check out the classic looks, and the bold looks in stripes for summer..
One of the big trends this season is anything striped... Expect to see lots of stripe, not only on wonderful nautical knit tops, but dresses, handbags, and even shoes...
Check out photo above outfit of "Michael Kors" design -. The results - a chic casual look.
Mint

IT's So Hot For Such A Cool Color
Mint jeans
T
he big color trend for 2012 summer is mint green... Yes you read right - mint green is the biggest color trend for the up coming season. The racks will be full of fashions that all done up in a soft whimsical version of mint green .
NEON COLOURS




Another color trend being you will see this summer especially in handbags and shoes is neon's. Such as bright blues, yellows, greens, oranges, and hot pinks.


The color that jumps out at the head of the line for this summer when it comes to neon shades, is orange! Less face it there is no other color that can make a loud fashion statement as bright orange. So need a new handbag or a great pair of shoes? Make
it orange.

Katharine Hepburn's style.
High-Waisted flare pants are so big this spring/summer... The pant that Katharine Hepburn made so popular, is back... I suggest you pair this style of pants with a great heel, just to give the old look a bit of flare. The new flare pant as a rule have loops for a skinny belt, so you can flash up the look with a flashy thin belt.
I will never stop being fascinated with Katharine Hepburn's style. She wore the pants, both literally and figuratively, in every aspect of her life and looked gorgeous doing it. I think we should all have a Katharine inspired outfit at the ready for occasions that require polish and a bit extra gumption, don't you agree? At the very least a bright red lipstick and a feisty attitude is in order!
Sundresses Are So Trendy This Summer
For a romantic look..

TOTAL WHITE LOOK..
White allows you creating different images, ranging from bohemian and ending with hippie. Everything depends on the style. Want to create a relaxed hippie style or islander style? Add large jewelry, big sunglasses and sandals.Want to create a more mysterious and solemn style - add black accessories to white sundress.White sundresses look good only when they fit your figure. This is the case when convenient should be beautiful. If you're going to put on a little white sundress, it must be of very good quality and dense material. Since you do not have to worry whether you lingerie is seen.Never wear white to a wedding, if you're not the bride. The little white sundress is a beautiful thing, but requires careful preparation.

LACE..
Lace is a big trend for this summer. Once only reserved for wedding dresses or formal wear, lace is showing up everywhere. Designers are adding lace to not only sporty shoes and handbags, but to everyday wear such as blouses, skirts, and dresses. Its trendy girls, but enjoy it while it lasts...
The Most Popular Shorts For This Summer - Boyish Styled Long Shorts ....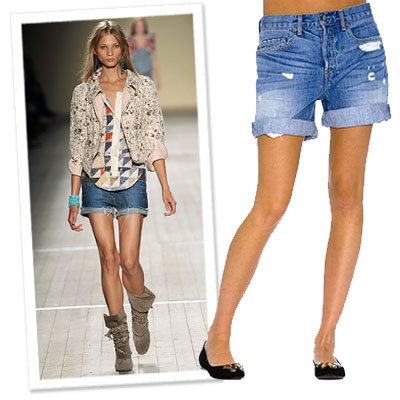 A great pair of "long shorts" are a summer wardrobe must.
A huge trend this summer will be the long to just above the knee boyish long shorts - paired with feminine tops. Add a great flip flops or heels, you are good to go.
..
This Summers Little

Black Dress -

Screams nothing but class..
A little black dress (LBD) is a simple black cocktail or evening dress. The cut of the dress is kept very simple and length can vary, depending on the current designer trend. Originally the little black dress was made popular in the 1920s, by the well known fashion designer Coco Chanel. Little did "Chanel know at the time, but LBD was so wonderfully versatile, that it would become the number one style that defyed time... The little black dress continues to be a staple in most women's wardrobe some 70 yeard later.

It continues to hold its own on the top ten list of fashion's that defy time, and has become a steadfast "rule of fashion" every woman should own at least one or two seasonal elegant black dresses.


Pastel pearl jewelry is a big trend this season... A Must Have For The Trendy Girl

Pastel pearls are so big this spring /summer season. You name it, bracelets, necklaces, rings... You will see loads of variations of soft pastel shades making up wonderful pearl jewelry creations ... While pearl jewelry continues to defy time, the pastel toned pearls are the trend this season.